Director

Director CHANG Sukbok
Professor Chang is the director of the Centre for Catalytic Hydrocarbon Functionalizations, established in December 2012. Director Chang received his M.S. from Korea Advanced Institute of Science and Technology (KAIST) in 1987 and his Ph.D. from Harvard University in 1996. He has been a professor of KAIST since 2002 and received numerous awards including Korean Science Prize in Chemistry and Kyung-Ahm Academic Award.
Introduction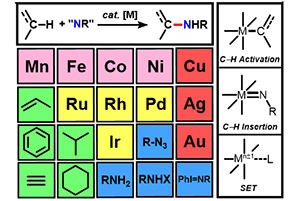 Developing new catalytic organic reactions and investigating their applications
- Designing catalysts based on experimental chemistry and computer simulations
- Developing new activation methods for C-H bonds
- Fabricating chemical feedstocks through selective defunctionalization of biomass
Main research activities
The main research areas of the Center for Catalytic Hydrocarbon Functionalizations are the development of new catalytic reactions and elucidation of mechanistic details in the C-H bond activation of low-reacting molecules such as hydrocarbons. Transition metal catalysis is the central tool in this study to develop and apply.
Hydrocarbons are present abundantly in nature, but cannot be easily exploited as source materials for organic synthesis or chemical processes owing to their low reactivity under mild conditions. To overcome this problem, it is essential to develop an effective and selective catalytic system which will provide the necessary sound basis for chemical reactions, and ultimately offer a wide range of applications, including the synthesis of natural products and useful materials, and bioactive compounds.
By first identifying the basic principles underlying the carbon-hydrogen bond-activation process in low-reactivity organic molecules, the center aims to develop a system that enables mediation via metal catalysts for practical application of reactions in organic chemistry. Our ultimate goal is to develop innovative science and technology (S&T) solutions that go beyond the boundaries established by the chemical-materials industry. We also would like our goal to be the application of developed catalytic systems for the introduction of useful functional groups in methane-based hydrocarbons. In addition, the center plans to conduct research into biomass conversion by developing selective defunctionalization catalytic systems.