International Researcher Support
Roughly a third of the research staff at the Institute for Basic Science (IBS) is from overseas. These hundreds of international researchers need additional support tailored to adapting to life in Korea so they can focus on what matters most; scientific research. What started a book in 2015, Living in Korea evolved into a website. After more than a year and a half in the making, Phase 1 has more than 600 pages of contents and 800 photos. As the Institute is publicly funded, we wish for the support website to be freely accessible to anyone who wishes to use it and learn from it.
By Global Staff for Global Staff
The site is a collection of information and support so you thrive, not simply survive. Written by international staff for international staff, this resource is uniquely designed and informative for those settling down in Korea or even stopping by short-term. Contents will continue to be expanded in 2020 and beyond and the content creator truly wishes for feedback so he can make the site as useful as possible.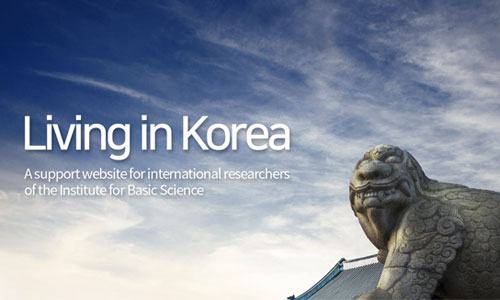 Overview gives an introduction to the country, Korean language, personalized support, immigration which includes visas and the Alien Registration Card, embassies, calendar year and seasons, 4 social insurances, year-end tax settlement, and gallery of every image used on the site.
Housing deals with the types and measurement standards, real estate agents, housing contracts, dual address systems, moving domestically, room by room breakdown, garbage, rent and utilities, laundry, and the internet.
Transport talks about transport cards, subways, city buses, intercity and express buses, trains, taxis, bicycles, air travel, elevators, transport safety schools, and research groups.
Banking lists domestic banks, numbers and currency, transfers, internet and mobile banking, digital certificates, debit and credit cards, ATMs, paying fees and taxes, currency exchange, and phishing.
We hope this resource aids and assists you while you are living in Korea.
Content Manager

Global Relations Team : Richard Moore 042-878-8203

Last Update

2022-01-27 16:19